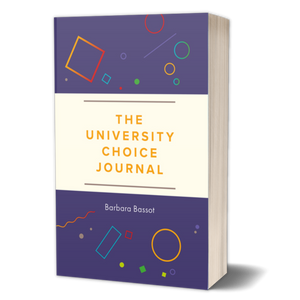 The University Choice Journal is here to support students through the complete process of university decision-making.  In support of Gatsby Benchmarks 7 and 8, the journal is ideal for preparation for university visits and as preparation for personal guidance.

Split neatly into ten separate themes, covering everything from values and strengths, to university visits and finances, the journal asks thought-provoking questions on each important topic to inspire students to think at a deeper level about what matters most to them and guide them to make informed choices. With plenty of room to record reflections and notes throughout, the journal will help students to answer questions such as Why do I want to go to university? Should I study an academic course or vocational one? What does it cost to study at university?  What would I gain from taking a gap year? Should I do a degree with a placement year? The journal also includes additional space to record university visits and interview preparation.
Written by a qualified careers adviser with a recognised specialism in critical reflection
Helps students to reflect more deeply about their own futures and what's right for them
Introduces students to critical thinking, reflective practice and writing – these are key skills required for success at uni
Journal format makes the guide a unique resource
Can be used by students on their own, with their parents, or with personal tutors/careers advisers in tutorial sessions
Barbara Bassot is a Careers Adviser and Senior Lecturer at the Centre for Career and Personal Development at Canterbury Christ Church University, specialising in critical reflection and career guidance. She is author of The Reflective Journal, now in its 2nd edition.
Details 
Published: 9 January 2018
Edition: 1st
Length: 160 pages
Dimensions: 20.5 x 13.4 cm
Weight: 244g