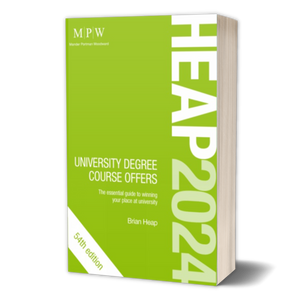 HEAP 2024 is out now! This best-selling reference is the only book students need to successfully apply to uni.
With thousands of courses to choose from, it can be difficult to know where to start when it comes to making university applications. HEAP 2024 University Degree Course Offers is the essential guide covering everything students need to know to research and prepare effectively, helping them choose and win a place on a course that's right for them.
The 54th edition is fully revised and updated with new courses and admissions policies for 2024 entry. Now with degree apprenticeship listings, this is the only independent reference book listing such an extensive range of target offers for many degree subjects, and admissions details for all universities and colleges, offering a rich resource on every aspect of the application process.

"Heap is truly the life ring in the vast ocean for careers professionals. His clear and concise approach, takes students, families and careers advisers from deciding the right course, to securing their place."
Kelly Spence
Group Careers and Employability Lead, Outcomes First Group
Career Matters, CDI Magazine 
Details 
Date published: 17 May 2023
Edition: 54rd
Length: 512 pages
Dimensions: 23.4 x 15.6 cm
Weight: 930g
About the author
Brian Heap - Frequently dubbed 'the guru of university choice', Brian Heap has been writing, broadcasting and advising on courses for over 50 years.
Learn more >>