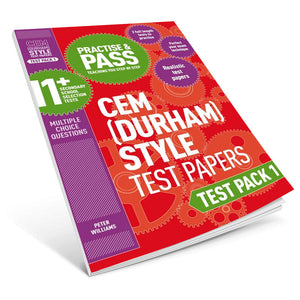 Do you want your child to attend an independent or grammar school? Wondering how to give him or her the best possible chance of passing these exams? Practise and Pass 11+ CEM (Durham) Style Test Papers: Test Pack 1 is a brand new pack filled with new, sample practise questions in the same multiple choice format as the final CEM (Durham) exams.
Your pack includes:
2 full-length practice papers, in the same style as the CEM (Durham) tests.
Answer grid booklets for the student to fill in – giving them the real exam experience.
Full guidance on marking the papers, with in-depth answers and advice for parents. Also includes tips for helping your child improve their scores.
Competition is high and places are very limited in independent and grammar schools so this pack is an invaluable tool to give your child the head start they need.
The Practise and Pass 11+ CEM (Durham) Style Test Papers have been developed in line with CEM (Durham) exams, which are timed multiple choice questions covering all four 11+ exam areas. Papers are tried and tested by students who have sat the CEM (Durham) style tests and written by an 11+ tutor with over 20 years of experience.
Give your child the skills and experience to pass the 11+ exam with flying colours.
Details 
Published: 15 June 2016
Edition: 1st
Length: 172 pages
Dimensions: 29.7 x 21 cm
Weight: 360g