Reviews
The Careers Leader Handbook is a really positive, helpful, practical book which demonstrates the importance and value of careers education to all those who read it.

Wendy Gorham, CEC Careers Hub Lead, East Sussex
A Guide to Uni Life is a brilliant read, a must-have for all students heading off to university - and very useful for parents left behind too. It really helped my child feel ready for fresher life, from what to pack to funding and study advice, and answered a lot of my questions as a dad too.

Jim Armitage, Business Editor of The Sunday Times
Understanding Apprenticeships is comprehensive, authoritative and engaging; a must read for anyone exploring their post-school options.

Lindsay Conroy, UCAS Apprenticeship National Programme Lead
Bundle & Save with our school packs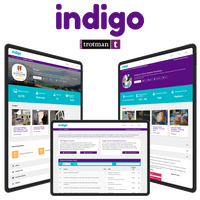 Indigo - our brand new, easy-to-use digital platform to support the delivery of your careers curriculum
Just £142.80 per module, for whole-school access
Trotman are proud to have been supporting students in making their career and uni choices for more than 50 years.
We are known and trusted by schools and careers advisors for our popular print resources including HEAP, the market-leading guide to uni degree courses, the Careers directory and The Careers Leader Handbook.
This wealth of information is what powers Indigo – our new careers and uni choice digital platform for schools.
Kept up to date online, and brought to life with new digital functionality and time-saving teacher tools, students can now search, filter and explore hundreds of career paths and courses.
Find out more