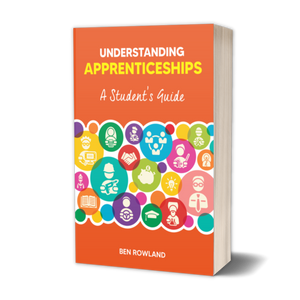 The definitive guide to apprenticeships for students!
The UK apprenticeship system has changed significantly over the years, with apprenticeships becoming increasingly recognised and respected. No longer limited to traditional trades, apprenticeships are now available in a variety of industries, including digital, healthcare and professional services, and well-known companies – from Deloitte and IBM through to Google and the BBC – are putting them at the forefront of their recruitment.
Understanding Apprenticeships helps you to determine whether an apprenticeship is right for you. By exploring the different types available and evaluating how they compare to other routes, this essential guide leads you through the process of finding an apprenticeship and offers practical advice and key tips to help you succeed in your application along the way. With realistic insights from multiple case studies with apprentices and employers, it highlights what you can expect from both the work and study involved in an apprenticeship and explains how to get the most out of your experience. A must-read for anyone considering an apprenticeship, this trustworthy handbook will help you achieve your career ambitions.
"Understanding Apprenticeships is comprehensive, authoritative and engaging; a must read for anyone exploring their post-school options."
Lindsay Conroy,
UCAS Apprenticeship National Programme Lead
"Understanding Apprenticeships is an essential and informative guide - if you want to know about apprenticeships, figure out how apprenticeships compare with other options or to help you go about finding and succeeding in an apprenticeship then this is a book for you."
Simon Ashworth
Director of Policy at the Association of Employment and Learning Providers (AELP)
Details 
Published: 15 September 2023
Edition: 1st
Length: 222 pages
Dimensions: 23.4 x 1.56 cm
Weight: 

About the author
Ben Rowland - Ben Rowland founded Arch Apprentices, a pioneering training provider that created ground-breaking new apprenticeships. He has advised a range of organisations on their learning and talent programmes.
Learn more >>