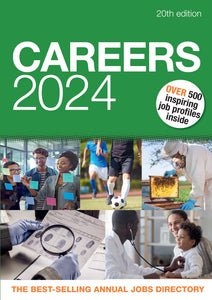 "Covers every single career you could think of." Careers Team Manager
Kick start your career journey with the UK's best-selling jobs directory. Offering comprehensive overviews of hundreds of careers in an easy-to-use format, Careers guides you through your options and gives you all the information you need to consider when choosing your ideal job.
Discover a wide range of occupations
Find annually updated labour market information on a huge range of jobs, plus discover new trending occupations.
Explore hundreds of different jobs
Search over 500 inspiring job profiles that will help you choose a role that suits your interests, qualifications and skills.
Uncover fresh careers ideas
Consider alternative options by searching for roles based on your qualification level. Search by sector Use the job-family structure to look at roles that you might not even have considered before!
Every job profile answers your key questions:
* What qualifications and training do I need?
* What does the work involve?
* Will I suit the role?
* What are the working conditions like?
* What are my future prospects?
* What are the pros and cons of the job?
* What salary can I expect?
* What similar jobs are there?
* Where can I go for further information?

Details 
Published: 13 October 2023
Edition: 20th
Length: 640 pages
Dimensions: 29.7 x 21 cm