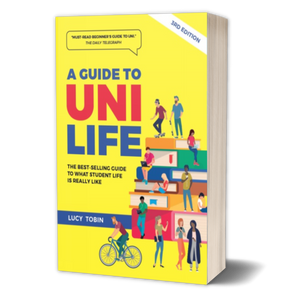 First day jitters?

Exam nerves?
Money worries?
Get all your uni life questions answered inside!
Oxford graduate and award-winning journalist Lucy Tobin gives you the lowdown on everything you need to know to have a brilliant time at uni and achieve a great degree.
Whether you're looking for tips on finding a balance between your studies and your social life, advice on looking after your health, or help coping with the cost of living, this book arms you with all the practical advice you need to successfully navigate student life.  Welcome to uni life!
"I'm Lucy, and as soon as I graduated I realised how much I'd learnt since freshers' week. Not just academic stuff, but how to avoid getting ripped off whilst renting a flat, staying on top of your mental health amidst heavy work deadlines, cheap and healthy ways to cook, and how to get a First without trying…too hard. I've grilled tutors, current uni students and graduates who've only just taken off their mortarboards for their top tips to help you have the time of your life. Have an incredible time!" Lucy
"A Guide to Uni Life is a brilliant read, a must-have for all students heading off to university - and very useful for parents left behind too. It really helped my child feel ready for fresher life, from what to pack to funding and study advice, and answered a lot of my questions as a dad too."
Jim Armitage
Business Editor
The Sunday Times 
Details 
Published: 12 June 2023
Edition: 12th
Length: 192 pages
Dimensions: 19.8 x 1.4 x 12.9 cm
Weight: 222g
About the author
Lucy Tobin - Lucy Tobin is an award-winning feature and comment writer, business reporter, author and blogger, focusing on education, business, and parenting. She writes for UK newspapers, especially The Sunday Times, the Evening Standard, The Times, and Guardian.
Learn more >>